B.C. MLAs say tougher penalties are needed, but won't be introduced until ridehailing legislation comes into force.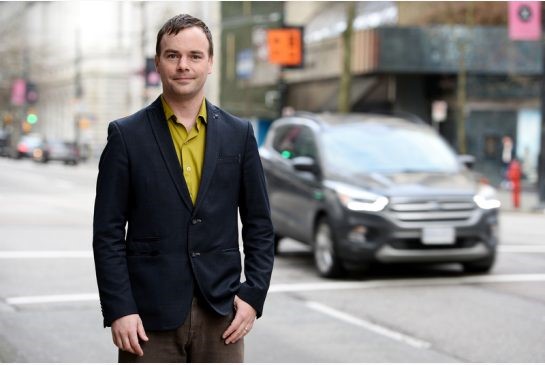 Jennifer Gauthier / For Metro
Spencer Chandra Herbert, NDP MLA for Vancouver-West End: tougher penalties for illegal ridesharing won't be in place until new legislation on ridehailing apps is introduced.
By: Jen St Denis Metro Published on Wed Jan 10 2018 05:41:00
MLAs from all of B.C.'s political parties agree that penalties for illegal ridesharing need to increase — but it's unlikely to happen before new regulations to both allow and regulate ridehailing apps are brought in, probably one year from now.
In the meantime, one company that is currently operating illegally with over a hundred drivers says it has no intention of shutting down.
"The Ministry of Transportation could, through regulation, increase fines, could add on enforcement, but part of the problem here is that they're going after a driver," said Spencer Chandra Herbert, NDP MLA for Vancouver-West End.
"But there are no laws relating to actually finding the business and sending the business on to the drivers. The company remains intact, the driver takes the hit: why would the company care?"
B.C.'s Passenger Transportation Branch has been investigating six companies that are operating in Metro Vancouver and the Victoria area, and have issued 20 cease and desist orders to the companies and 11 fines of $1,150 each to drivers.
Kristen Vanderkuip, the registrar of the PTB, told a parliamentary committee that some of the drivers for these companies don't even hold valid drivers licences, let alone the Class 4 licence, medical exam and appropriate insurance currently required to carry paying passengers.
She said the popularity of the apps has increased in recent months.
Lindsay Olsen, a spokesperson for the Insurance Corporation of British Columbia, warned that drivers who find passengers through apps like Go Kabu and Udi Kuaiche could face enormous financial penalties if they are in an accident.
That includes "potentially having to repay the full value of all claims that arise and forfeiting coverage for their own injuries as well as damage to their vehicle," she said.
Many of the companies are focused on Metro Vancouver's large Mandarin-speaking population. One of those companies, Go Kabu, is now denying a Global News report that appeared to show a driver rejecting a passenger. According to Global News, the reason the driver gave was that the company had told him "not to take any westerners."
Ge Zhang, product development specialist for Go Kabu, said in an email that the company doesn't discriminate against passengers on the basis of language or race, but allows its drivers to choose not to take non-Chinese-speaking passengers because some drivers only speak Chinese. The company is working on introducing more languages to its app, Zhang wrote.
Zhang told Metro News that all drivers who use his company's app have a valid B.C. Class 5 licence, but could not explain how the company verifies licences.
Another popular Chinese-language app, Udi Kuaiche, did not respond to Metro's interview request.
Andrew Weaver, a Green Party MLA who has pushed for rideshare to be allowed in B.C., suggested that penalties need to be harsher, including possibly impounding vehicles. Jas Johal, B.C. Liberal MLA for Richmond-Queensborough, acknowledged the safety and insurance issues, but said "it speaks to the need, it speaks to the urgency of finding a solution to this issue."
Chandra Herbert agreed. "What it's exposed is how antiquated the regulations we have now are," he said.
The parliamentary committee now has until Feb. 15 to produce its report with recommendations for a new law to allow ridehailing apps. That legislation will likely be introduced in the fall and then debated, and won't likely be in place until the Spring of 2019.
"Any legal changes we make have to make sure that the laws we create are effective," Chandra Herbert said. "You kind of breed distrust in the whole system if your laws are laughed at an ignored."